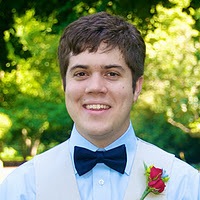 Michael is an Assistant Professor at James Madison University in Harrisonburg, VA.
While in THIRD Lab, he was a Computer Science Ph. D. student in the Center for Human-Computer Interaction at Virginia Tech (VT). He is an affiliate of the Institute for Creativity, Arts, and Technology at VT. Michael was advised by Deborah Tatar.  . Michael is interested in the relationship between intimacy and shared experience, which he is studying through designs for co-experience or co-consumption of media.
Michael has a M.S. in Computer Science, also from VT. For this work, he studied the effects of varied user interface transparency in a Computer-Supported Cooperative Work (CSCW) application on individuals' contributions to co-located group work.
Michael earned his B.S. in Computer Science from The University of North Carolina where he worked on Enabling Technologies with Dr. Gary Bishop.
Find out more about Michael on his site, or at his Google Scholar Profile.